Beauty & Self
Books & Music
Career
Computers
Education
Family
Food & Wine
Health & Fitness
Hobbies & Crafts
Home & Garden
Money
News & Politics
Relationships
Religion & Spirituality
Sports
Travel & Culture
TV & Movies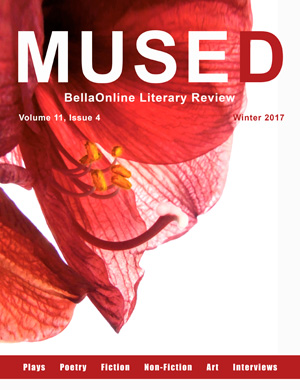 We all travel on this blue-green ball around our very own star each year, sliding a little closer, sliding a bit further away. The balance is critical. Too much closer and we'd roast. Too much further away and we'd freeze.

We should be aware of just how blessed we are that our Earth is "just right" - and do what we can to keep our world healthy. It's the only one we have.

Enjoy the Mused Winter Solstice 2017 Issue



Hearts & Flowers
Tatting - Georgia Seitz, Editor

Hearts & Flowers by Mary Joseph Donohue and Sue Hanson. From the files of the Online Tatting Class, March 2007- 2008. Use with permission.




Avoid these "Health Foods"
Nutrition - Moss Greene, Editor

Not all so called "health foods" are that good for you. Some may be harmful to your health. Others may not be all they claim to be. Here are two products that you should probably take with a "grain of salt."




Review of Mantras Made Easy
Yoga - Korie Beth Brown, Editor

Published in 2017, this book is meant to demystify the use of mantra in meditation, and to open the practice to those of all religions and spiritualities. Does this approach work?




Canis Minor – the Lesser Dog
Astronomy - Mona Evans, Editor

Canis Minor is one of Orion's hunting dogs. It trots along behind its master unperturbed by the unicorn (Monoceros), and leaving the hare (Lepus) to the greater dog (Canis Major) to chase. It's a small constellation with not much more to offer than one bright star, but it has a long history.




Protect Your Home from Predators
Senior Issues - Pamela Slaughter, Editor

This article shares when and how seniors often end up losing their equity or even their homes to predators, and how to protect themselves.




Pierna - Pork leg with Prunes and Chipotle
Mexican Food - Mickey Marquez, Editor

Pork leg, more marbled than the loin, is a popular cut of meat in Mexico, used in a variety of ways, chopped for stews, roasted and pulled for the famous "torta" sandwiches, this elegant recipe is a citrus marinaded pork leg, stuffed with prunes and chipotle in escabeche. Perfect for celebrations.


| Google+ |
E D I T O R R E C O M M E N D E D
Simple Delicious Italian Recipes


Simple Delicious Italian Recipes. Authentic Italian recipes easy to follow and simple to prepare, written by Cinzia Aversa, Italian Food Editor at BellaOnline.com. A perfect gift idea for any Italian food lover.
Suzanne Somers´ Eat Great, Lose Weight


No one knows the struggle of dieting and weight loss better than Suzanne Somers. Through experimentation and countless consultations with physicians, she lays out a fool proof plan on how to eat great food and still lose weight.
Ordinary People as Monks and Mystics


This non-denominational book is appropriate for any religious path, and helps you to explore your spirituality whether you are more of a mystic or more of a monk. Both approaches are valid.